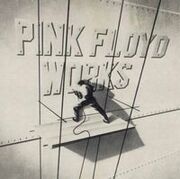 Title: Works
Artist: Pink Floyd
Released: June 1983
Total Length: 42:10
Label: Capitol Records (US)

Track Listing
Edit
The main interest for collectors is the track Embryo, which originally only appeared in January 1970 on a scarce Various Artists compilation album promoting Pink Floyd's UK label Harvest Records entitled Picnic - A Breath Of Fresh Air, and a former concert staple in a greatly elongated form.
Also unique to Works, the tracks Brain Damage and Eclipse are presented as alternate versions, possibly stereo mixes from the master tapes of the quadraphonic edition The Dark Side Of The Moon.
Ad blocker interference detected!
Wikia is a free-to-use site that makes money from advertising. We have a modified experience for viewers using ad blockers

Wikia is not accessible if you've made further modifications. Remove the custom ad blocker rule(s) and the page will load as expected.