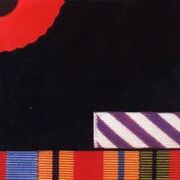 Title: The Final Cut
Artist: Pink Floyd
Released: March 21, 1983 (UK), April 2, 1983 (US)
Total Length: 43:27 (original album), 46:40 (2004 re-issue)
Label: Harvest, EMI (UK), Columbia, Capitol (US)

Track Listing
Edit
The 2004 rerelease included When The Tigers Broke Free after One Of The Few.
with
Pink Floyd released a 19-minute Final Cut video EP, essentially four music videos in a continuous sequence, directed by Willie Christie, who was Waters's brother-in-law. The running order was 'The Gunner's Dream', 'The Final Cut', 'Not Now John', and 'The Fletcher Memorial Home'. English actor Alex McAvoy, who played the teacher in the film version of "The Wall", had a prominent role in the video EP, apparently reprising the same role. The video is conceptual, rather than merely a collection of music videos, and offers a glimse of the teacher's life outside the school, attempting to come to terms with his experiences during World War Two while his son goes off to fight in the Falklands. Other characters from the album also put in an appearance in the video, such as the prostitute from 'Your Possible Pasts' and Margaret Thatcher (portrayed by a lookalike). Roger Waters appears (though all but his mouth is sillhouetted) as a patient singing the lyrics to a psychologist on the grounds of the Fletcher Memorial Home.
Ad blocker interference detected!
Wikia is a free-to-use site that makes money from advertising. We have a modified experience for viewers using ad blockers

Wikia is not accessible if you've made further modifications. Remove the custom ad blocker rule(s) and the page will load as expected.