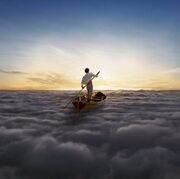 Title: The Endless River
Artist: Pink Floyd
Released: November 7, 2014
Total Length: 52:47
Label: Parlophone (UK), Columbia (US)

Track Listing
Edit
Things Left Unsaid (4:24)
It's What We Do (6:21)
Ebb And Flow (1:50)
Sum (4:49)
Skins (2:37)
Unsung (1:06)
Anisina (3:15)
The Lost Art of Conversation (1:43)
On Noodle Street (1:42)
Night Light (1:42)
Allons-y (1) (1:56)
Autumn'68 (1:35)
Allons-y (2) (1:35)
Talkin' Hawkin' (3:25)
Calling (3:38)
Eyes To Pearls (1:51)
Surfacing (2:46)
Louder Than Words (6:32)
Deluxe Edition Bonus Tracks
Edit
TBS9 (2:27)
TBS14 (4:11)
Nervana (5:39)
Anisina (Video) (2:49)
Untitled (Video) (1:22)
Evrika (A) (Video) (5:58)
Nervana (Video) (5:32)
Allons-y (Video) (6:00)
Evrika (B) (Video) (5:33)
Song Rating: 5 / 5
Overall Rating: 5 / 5
Best Song: 'Louder Than Words
David Gilmour – guitars, vocals, keyboards, piano, EMS VCS 3, bass guitar (2,7), voice samples
Nick Mason – drums, percussions, voice samples
Richard Wright – Hammond organ, Farfisa organ, pipe organ, piano, Rhodes piano, keyboards, synthesiser, vibraphone, voice samples
The track names TBS7 and TBS14 refer to "The Big Spliff", which was what would have been the title of the unreleased album of ambient music that was left over after the recording of The Division Bell. The Endless River grew out of these leftover tracks but Gilmour has stated in recent interviews that only a small portion of "The Big Spliff" was used in The Endless River.
Ad blocker interference detected!
Wikia is a free-to-use site that makes money from advertising. We have a modified experience for viewers using ad blockers

Wikia is not accessible if you've made further modifications. Remove the custom ad blocker rule(s) and the page will load as expected.