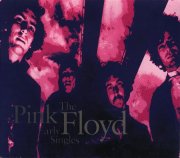 Title: The Early Singles
Artist: Pink Floyd
Released: November 24, 1992
Total Length: 33:23
Label: EMI (UK), Columbia (US)

Track Listing
Edit
Except for the song "The Scarecrow", which appeared on The Piper At The Gates Of Dawn (1967), and "Careful With That Axe, Eugene", a live version of which was on Ummagumma, the rest of the tracks were not released on any studio albums. Although several of the tracks appeared on earlier compilations (notably Relics (1971) and Works (1983)), this was the first release that brought the 1960s singles together.
The tracks "Apples And Oranges" and "Point Me At The Sky" were previously unreleased in the United States and The Early Singles CD marked the tracks' first official appearance in the US.
Available only as part of the Shine On box set, The Early Singles is a compilation of the first five Pink Floyd singles, in order. After these releases, the band did not officially issue another single in their home territory of Britain until 1979.