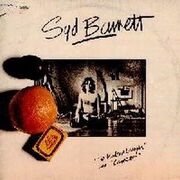 Title: Syd Barrett
Artist: Syd Barrett
Released: 14th November, 1974
Total Length: 76:30
Label: Harvest/EMI

Track Listing
Edit
Syd Barrett is a 1974 double-album pairing of Syd Barrett's two solo albums, The Madcap Laughs and Barrett, both originally released in the UK in 1970.
After the unexpectedly massive success of Pink Floyd's Dark Side of the Moon, EMI re-issued the Barrett-era albums, The Piper at the Gates of Dawn and A Saucerful of Secrets as A Nice Pair in the hopes that the fans may be interested in the band's earlier work with Barrett. Once that was a success, primarily in the U.S. where both albums had initially flopped, Syd Barrett was compiled to meet demand.
As a result, The Madcap Laughs/Barrett (as it was titled in the U.S.) made #163, giving Barrett his only US chart album.
Ad blocker interference detected!
Wikia is a free-to-use site that makes money from advertising. We have a modified experience for viewers using ad blockers

Wikia is not accessible if you've made further modifications. Remove the custom ad blocker rule(s) and the page will load as expected.