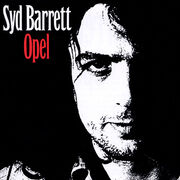 Title: Opel
Artist: Syd Barrett
Released: 17th October, 1988
Total Length: 45:08
Label: Harvest/EMI (UK), Capitol Records (US)

Track Listing
Edit
Syd Barrett - Guitar, Vocals, producer
Gareth Cousins - Mixing
David Gilmour - Producer
Peter Jenner - Producer
Malcolm Jones - Producer
Roger Waters - Producer
Guest musicians on "Clowns and Jugglers":

Mike Ratledge - Organ
Robert Wyatt - Drums
Hugh Hopper - Bass
A compilation consisting of unreleased and alternate versions of previously released songs, recorded by former Pink Floyd frontman Syd Barrett between 1968 and 1970.
While Barrett only released two albums in 1970, The Madcap Laughs and Barrett, the existence of unreleased studio work was widely reported. After years of demand from Barrett's considerable fan base, Opel was compiled and released. Despite its positive reviews, it failed to chart.
Ad blocker interference detected!
Wikia is a free-to-use site that makes money from advertising. We have a modified experience for viewers using ad blockers

Wikia is not accessible if you've made further modifications. Remove the custom ad blocker rule(s) and the page will load as expected.