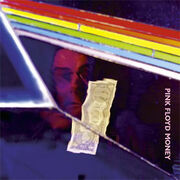 Title: Money
Artist: Pink Floyd
Released: 6/23/73
Total Length: 6:30
Chart Position: #13 (US)
B-Side: Any Color You Like 
1 of only 2 songs (The Beatles "All You Need Is Love") written in 7/4 to break the top 20 in the US.
Ad blocker interference detected!
Wikia is a free-to-use site that makes money from advertising. We have a modified experience for viewers using ad blockers

Wikia is not accessible if you've made further modifications. Remove the custom ad blocker rule(s) and the page will load as expected.