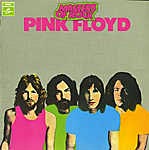 Title: Masters Of Rock
Artist: Pink Floyd
Released: 1974
Total Length: 29:40
Label: EMI

Track Listing
Edit
Masters Of Rock is a little-known compilation album of early Pink Floyd music, concentrating on singles from 1967 to 1968. A budget EMI compilation, it was originally released in the Netherlands in 1970 (and later in Hungary) as The Best Of The Pink Floyd. It was repackaged and rereleased in 1974 (Germany, Italy, and The Netherlands) as Masters Of Rock, to capitalise on the success of The Dark Side Of The Moon. Two different sleeve designs were used, one being the picture from the centre of the album sleeve for Meddle. The album was labelled as 'Volume 1,' however, no other volumes have been released.
The record is notable as the only official stereo release of the obscure Syd Barrett-led single "Apples and Oranges". "It Would Be So Nice" is similarly obscure; its only other non-single release is The Early Singles CD in the Shine On boxed set.
Masters Of Rock is out-of-print.