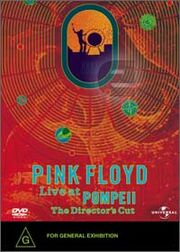 Title: Live At Pompeii
Artist: Pink Floyd
Released: September 1972
Total Length: 60:00 (Original), 93:00 (Director's Cut)
Label: Universal

Original Track Listing
Edit
Intro Song
Director's Cut Track Listing
Edit
DVD Features
Edit
The Director's Cut
The Original Version Of The Film
Pompeii Map And History
Song Lyrics
Photo Gallery
Album Graphics
Odds 'n' Sods
Also known as Echoes: Pink Floyd (US) and Pink Floyd In Pompeii (Belgium)
The original release, running for one hour, only featured the live footage. A second version had additional footage of the band as they recorded or pretended to record their album The Dark Side Of The Moon, as well as interviews conducted off-camera by Maben. This version ran for 80 minutes. The Director's Cut is a 2003 DVD re-release with further additional footage, running 93 minutes.
The performances of "Echoes", "A Saucerful Of Secrets (The Song)", and "One Of These Days" were filmed from October 4, 1971 to October 7, 1971. The remaining songs were filmed in a Paris studio, along with additional bluescreen footage for insertion into the Pompeii performances. The sequences in Paris were filmed in late 1971/early 1972, and can be distinguished by the absence of Richard Wright's beard. This version was released in theaters in September, 1972 and appears on the DVD version
In August 1974, another version was released combining the original film with supposed recording sessions of The Dark Side of the Moon at Abbey Road Studios. These sessions were actually staged for the film, as the recording of the album had been completed when these sessions were filmed in January 1973 and the band was mixing the album at the time.
During "One Of These Days", the majority of the footage is of Nick Mason, as the film of the rest of the band was lost. During this performance, Nick loses a drumstick and keeps playing with one hand while retrieving another without missing a beat.
Rap band The Beastie Boys parodied this concert in the music video for their song Gratitude.
Ad blocker interference detected!
Wikia is a free-to-use site that makes money from advertising. We have a modified experience for viewers using ad blockers

Wikia is not accessible if you've made further modifications. Remove the custom ad blocker rule(s) and the page will load as expected.