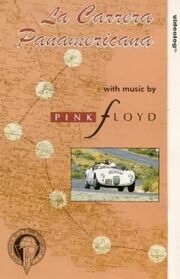 Title: La Carrera Panamericana
Artist: Pink Floyd
Released: June 2, 1992
Total Length: 65:00
Label: Sony Music Video Enterprises

Track Listing
Edit
Previously Recorded
Edit
New Material
Edit
1992 video of the Carrera Panamericana automobile race in Mexico. The film included a soundtrack entirely of music by the band Pink Floyd, due to the fact that the band's guitarist David Gilmour, drummer Nick Mason and manager Steve O'Rourke competed in the race.
During the course of the race Gilmour crashed, and while he was unharmed, O'Rourke (his map-reader) suffered a broken leg. Mason finished eighth overall with his co-pilot, English auto racer Valentine Lindsay.
The music is a combination of previously released Floyd material (re-edited into a soundtrack) and material composed for the video. The tracks composed for the video are the first studio recordings made after Richard Wright re-joined the band in 1988. The new studio recordings were produced by Gilmour. The songs "Pan Am Shuffle" and "Carrera Slow Blues" are notable as the first tracks co-written by Wright since 1975's Wish You Were Here, as well as the first co-written by Mason since 1973's The Dark Side Of The Moon.
A soundtrack album was not released, but the tracks are available on the A Tree Full Of Secrets RoIO.
Ad blocker interference detected!
Wikia is a free-to-use site that makes money from advertising. We have a modified experience for viewers using ad blockers

Wikia is not accessible if you've made further modifications. Remove the custom ad blocker rule(s) and the page will load as expected.