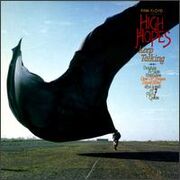 Title: High Hopes
Artist: Pink Floyd
Released: 1994
Total Length: 8:32
Label: EMI (UK), Columbia Records (US)
Chart Position: #7 (US Mainstream Rock), #26 (UK)
B-Side: Keep Talking

The music video to High Hopes was used a screen film on The Division Bell tour, as seen on P*U*L*S*E and set mostly on Fenland in Cambridgeshire. The video features a man looking over the Fens at Ely Cathedral, the same building which can be seen between the metal heads on the cover of the album. Also the video has lots of references to Cambridge, where Syd, Roger and David grew up. The university scarfs, bikes and punts on the river being obvious ones.
Ad blocker interference detected!
Wikia is a free-to-use site that makes money from advertising. We have a modified experience for viewers using ad blockers

Wikia is not accessible if you've made further modifications. Remove the custom ad blocker rule(s) and the page will load as expected.