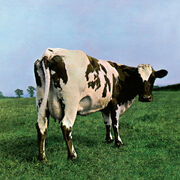 Title: Atom Heart Mother
Artist: Pink Floyd
Released: October 10, 1970
Total Length: 52:44
Label: Harvest, EMI (UK) Harvest/Capitol (US)

Track listing
Edit
Song Rating: 5 / 5
Overall Rating: 5 / 5
Best Song: Fat Old Sun
with
John Aldiss Choir - vocals
Alan Parsons - engineer
Peter Bown - engineer
Ron Geesin - orchestration, co-composition on Atom Heart Mother Suite
Alan Stiles - voice on "Alan's Psychedelic Breakfast"
Abbey Road Session Pops Orchestra - brass, orchestral sections
James Guthrie - 1994 remastering
The original album cover shows an ordinary cow standing in a pasture, with no text or any other clues as to what's on the record. The band wanted to explore all sorts of music without being limited to a particular image or style of performance. They requested that their new album have "something plain", which ended up being the image of the cow. Storm Thorgerson said that he simply drove out into a rural area and photographed the first thing he saw. The cow's name is Lulubelle III.
The longest tracks are progressions from instrumentals such as "A Saucerful Of Secrets (Song)", and "Interstellar Overdrive"; the Atom Heart Mother Suite's split up into 6 parts and features a full orchestra and choir while there are 3 parts of Alan's Psychedelic Breakfast which are joined by dialogue and sound effects of Alan Stiles preparing, discussing and eating breakfast as the acid starts to take over. The musical gestures and "mental soundtrack" that Alan narrates, mingled with sounds of preparing the meal in the song gives an visual, humorous representation of the feeling of the first glint of the hallucinogen, to which the song's title refers, as he goes through his normal routine.
Ad blocker interference detected!
Wikia is a free-to-use site that makes money from advertising. We have a modified experience for viewers using ad blockers

Wikia is not accessible if you've made further modifications. Remove the custom ad blocker rule(s) and the page will load as expected.