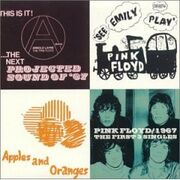 Title: 1967 Singles Sampler
Artist: Pink Floyd
Released: December 1997
Total Length: 17:39
Label: EMI (UK), Columbia (US)

Track listing
Edit
Also called 1967: The First Three Singles
Released to commemorate the 30th anniversary of the band.
It features the bands first three singles and b sides, which were written mostly by their band leader, Syd Barrett. "Arnold Layne" reached number #20 in the charts while "See Emily Play" made it to number #6, their highest charting single in the U.K until the release of Another Brick In The Wall (Part II)in 1979. "Apples And Oranges" was largely overlooked, with Roger Waters blaming its poor sales on bad production. "Paint Box" had been released previously along with "Arnold Layne" and "See Emily Play" on the Relics compilation album. "The Scarecrow" also featured on the bands debut album, "The Piper At The Gates Of Dawn". The album cover includes the original artwork which was found on each of the singles. 'Arnold Layne' and 'See Emily Play' both later appeared on Echoes: The Best Of Pink Floyd in 2001.
Ad blocker interference detected!
Wikia is a free-to-use site that makes money from advertising. We have a modified experience for viewers using ad blockers

Wikia is not accessible if you've made further modifications. Remove the custom ad blocker rule(s) and the page will load as expected.